We have teamed up with Appalachian Moutain Brewery for March Madness this year. Enjoy $3.50 Appalachian Mountain Brewery Cans for all NCAA games and play our NCAA Bracket Challenge now!
How Do You Play?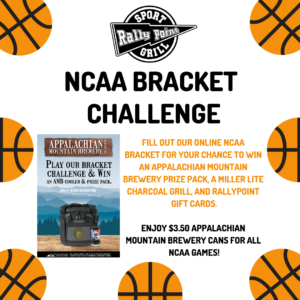 Fill out our online NCAA Bracket for your chance to win an Appalachian Mountain Brewery Prize Pack, Miller Lite Grill, RallyPoint gift cards, and more!
Get your bracket in before 12:15 p.m. on Thursday, March 21, 2019. Only the main 64 teams that make up a standard bracket are included (i.e. the play-in games, or 'first four', are NOT included).
What Do You Win?
At the end of each round, we will select one lucky winner to receive a $25 gift card to RallyPoint. This person will be randomly selected from everyone who has submitted a bracket. It will not be based on points.
At the end of the tournament, the runner-up (person with the second most points) will receive a Miller Lite Charcoal Grill.
The person who has the most points at the end of the tournament will receive a $100 gift card to RallyPoint and an Appalachian Mountain Brewery Prize Pack: Cooler, $50 Bar Tab at Appalachian Mountain Brewery, Hat, and a T-Shirt!
Please note that winners must be able to pick up their prizes at RallyPoint Sport Grill.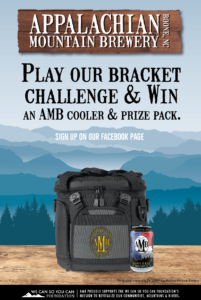 Must be 21 or older to participate. Winner must be able to pick up prizes in person at RallyPoint Sport Grill located 837 Bass Pro Lane in Cary, North Carolina.
About Appalachian Mountain Brewery
Appalachian Mountain Brewery focuses on building relationships with their community, sustainable business practices, and supporting local non-profits. They also really enjoy brewing great tasting award-winning beers and ciders.
Their brewery and tasting room is located at 163 Boone Creek Drive, bordering Boone Creek and Hodges Creek near the Boone Mall. The tasting room features plenty of outdoor seating, a 120-foot long outdoor bar bordering Boone Creek, and a covered heated porch – perfect for enjoying one of their beers.